IN-STORE
ANALYTICS
OPTIMIZATION
INTEGRATION
Digital advances, consumer's behaviours and emotional needs are changing the way people experience the decision making process for car purchase.
These trends implies that automakers and dealers should reexamine their sales strategy and re-design the customer journey across channel.
Decision making process for a new car takes long and it starts online and get across offline. The visit in the showroom is the very crucial moment and a well balanced blend of data and emotion is the key to turns a neutral customer in a full involved customer.

Improve the sales planning by knowing your customers
Understanding customers' behaviour and gathering data is even more crucial to bridge the gap beetween online and offline and reduce the cost per acquisition.
Analitycs, Artificial intelligence and in-store analitycs combined with a data intelligence can improve the sales planning and give a boost to the customer experience.
Offer an in-store experience disruption
Experience is a key differentiator but it's important to re-thing the role of sales representatives and support them with tools that can improve their influence during the process and add an "entertainment factor" to the car configuration.
When user enters the Active field, Digital signage mode is interrupted and Call to action is activated with explanation of the gesture to perform - Point at. Once the gesture is performed correctly, the contents connected to the part of the car pointed at will be loaded.
After that user has to perform next action - Swipe, in order to browse the options. When user exits the Active field, Digital signage mode becomes active again after 10seconds. 
Engaging with Hybrid Experience
"Hybrid Experience" is a mixed reality user experience with main value in connecting the digital and fisical world and allowing "deviceless" interactions.
The interaction takes place in "NUI" mode (Natural User Interface), through the movement of the body, the detection of position and posture or specific gestures (eg the swipe with the arm, similar to how it happens with the fingers on a smartphone).
This interaction allows to generate a remarkable "Wow!" Effect, to reach levels of attention of the lead (stopping power) unavailable with any other technology and to obtain consistent clusters of data for the qualitative and quantitative analysis (potential and effective) of the success level of an event in physical and real spaces (insights and data collection).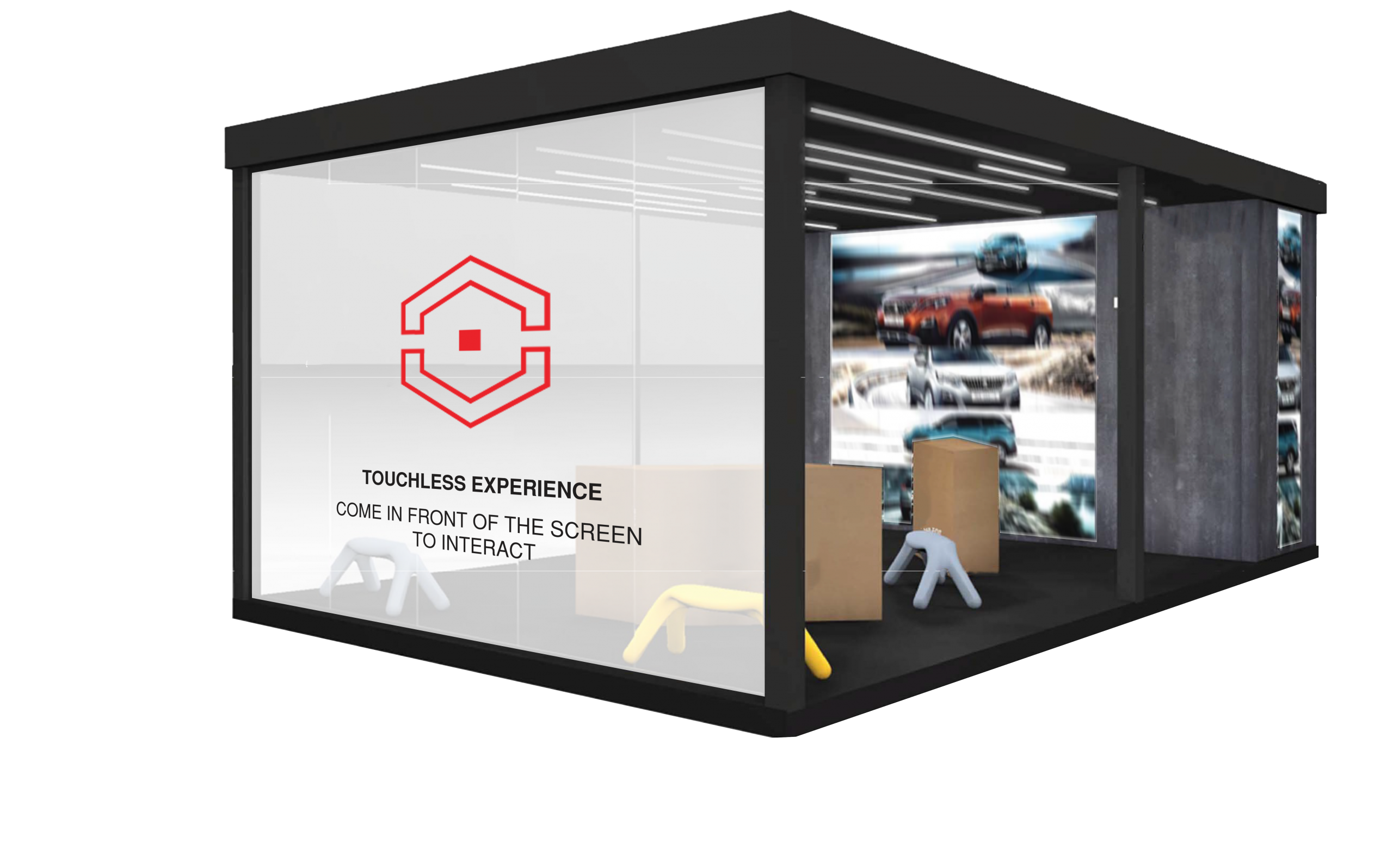 Please enter your information to receive the brochure
When you click send, we will store and process your personal data that you have entered above. Our Privacy Policy is here. Please read this to understand how we handle and use your personal information, and, to understand your rights with regard to your personal data that we process.
SUBSCRIBE TO OUR NEWSLETTER
OPENING HOURS
Mon - Fri: 10am - 18pm
​​Saturday: closed
​Sunday: closed